How Similar Are "Forrest Gump" and "The Curious Case Of Benjamin Button"?
Some films have clear connections, whether they are sequels, remakes or spin-offs using the same actors and character. Others share less obvious similarities like symbolism, general structure, visual resemblance in mise-en-scéne, character performance, or directorial style. This article is a comparative analysis of Robert Zemeckis' Forrest Gump (1994) and David Fincher's The Curious Case of Benjamin Button (2008), both written by Eric Roth. Although the films are adaptations of two separate sources, Gump and Button follow a nearly identical structure of narrative and characters. The two films also shared a similiar critical reception, with some critics even explicitly comparing the two. Although the comparison may feel vague at first, with closer examination, we can find a compelling list of meaningful similarities between the films, which ultimately communicate a common message and view of the world.
Forrest Gump is a story of its titular character who, despite having a low IQ, participates in some of the most key moments of America's history from the 1960s through to the 1980s. Gump is seemingly pulled along like a passive object drawn into situations with more dynamic yet frustrated individuals. He goes far in life simply by being himself and not resisting the flow of events, until he eventually learns to trust in himself and subtly take control of his destiny. Following a man with mental disabilities who becomes a super-wealthy historical player, Forrest Gump send the message that anybody can be anything, and that moral helped the film become a global phenomenon that made audiences laugh and cry. Gump also won the Academy Awards for Best Picture, Best Leading Actor (Tom Hanks), Best Director (Robert Zemeckis) and Best Adapted Screenplay (Eric Roth).
The Curious Case of Benjamin Button is a simpler, more surreal story of a man who is "born in unusual circumstances" and gradually ages backwards while others grow older normally. Like Forrest, Benjamin encounters distinct obstacles in each phase of life due to being different from others (Benjamin due to his reverse aging, Forrest due to his disability). Each character also has a lovesick romantic life, as each loves one woman from childhood but struggles to be with her (again due to the reverse aging and disability, respectively). On an even deeper level, the films share common themes and underlying moralities. Benjamin frequently states throughout the film, "Be whoever you wanna be" – a motto of personal freedom and the inspiration to lead your own life, as it can be too short. Forrest Gump's message could be phrased the same way.
Forrest Gump (Tom Hanks) and Benjamin Button (Brad Pitt), are both first established as isolated youths cut off from other people, due to Benjamin's odd combination of a child's personality with an aged body and Forrest's clear developmental disabilities. Benjamin may be considered more intelligent than Forrest, but both suffer from certain (in society's eyes) drawbacks, and both films become triumph-over-tragedy stories. Both characters are born and bred in small towns in the American South—Forrest in Greenbow, AL and Benjamin in New Orleans, LA (they both pronounce "Mama" in the same drawl-like tone).
Most importantly, perhaps, both Forrest and Benjamin are both innocents who experience elements of America's history throughout the 20th century. Benjamin endures the end of World War I (at birth), events of World War II, and his present date is set during Hurricane Katrina in 2005. Forrest experiences the Vietnam War, survives it and becomes a hero by saving others, but a friendship with Bubba (played by Mykelti Williamson) inspires him to return home and become a Shrimp Boat Captain in his honor after his death. Forrest's Bubba and Benjamin's Captain Mike (Jared Harris) are both fatally shot, and each shares a few final words with the protagonist before dying. In these words, both address the experience of being ordinary men fighting for one's home country and about the importance of fulfilling destinies in life. Both also have notable passions outside of war (Mike for tattoo art and Bubba for shrimping). Lieutenant Dan (Gary Sinise) in Forrest Gump also speaks about destiny when he states that he meant to die in war like his ancestors; instead his destiny becomes to meet his wife after losing his legs in combat. In both films, these dialogues about the destiny we expect versus what happens to us, as well as the cinematic portrayal of how war damages lives, may touch audiences who have experienced similar pain or trauma in their lives. Even in the opening scenes of Benjamin Button, the blind clockmaker Mr. Gateau (Elias Koteas) decides to build his clock backwards to restore hope that one day all the people lost in the war, including his own son, will return home.
Both Forrest's and Benjamin's stories are told in voice-over narration in a flashback structure. The idea of this storytelling technique is to allow the characters to directly tell viewers about their lives while coming to understand their own experiences themselves. Forrest tells his story to strangers on a beach near a bus stop, while Benjamin narrates from his diary as his eventual daughter Caroline (Julia Ormond) reads it, too. The circumstances are different, as Benjamin's narration ends when his diary is complete, and Daisy (Cate Blanchett) continues her final experiences of Benjamin's life. Forrest's leads up to when he visits Jenny (Robin Wright) and meets his son for the first time (Haley Joel Osment), after which the story continues. In both films, screenwriter Roth and directors David Fincher and Robert Zemeckis use voice-over narration as a moral tool to make us think about creating one's own life story through self-determination and making choices, as well as to draw attention to how we remember and talk about our lives.
Forrest and Benjamin encounter and overcome a series of obstacles throughout their lives, but one particular shared experience they overcome is their physical difficulty in walking and running. When both characters struggle with this, they are approximately the same real age, although Benjamin looks physically older. Benjamin spends his youth in a wheelchair and on crutches but progressively walks, while Forrest has leg braces but breaks out of them in the famous "Run, Forrest, Run" scene. For both characters, the episode signifies the strong will needed to defy seemingly insurmountable circumstances, especially when we are told by others that we are unable to do something. The two also possess special talents and interests. Forrest becomes a renowned ping-pong player, while Benjamin acquires a flair for playing the piano. In their middle-age years and half way through each film, both Benjamin and Forrest take boat trips venturing at sea. Benjamin inherits his boat from his father, Thomas (Jason Flemyng), while Forrest buys his to fullfill Bubba's dream of becoming a Shrimp Boat Captain.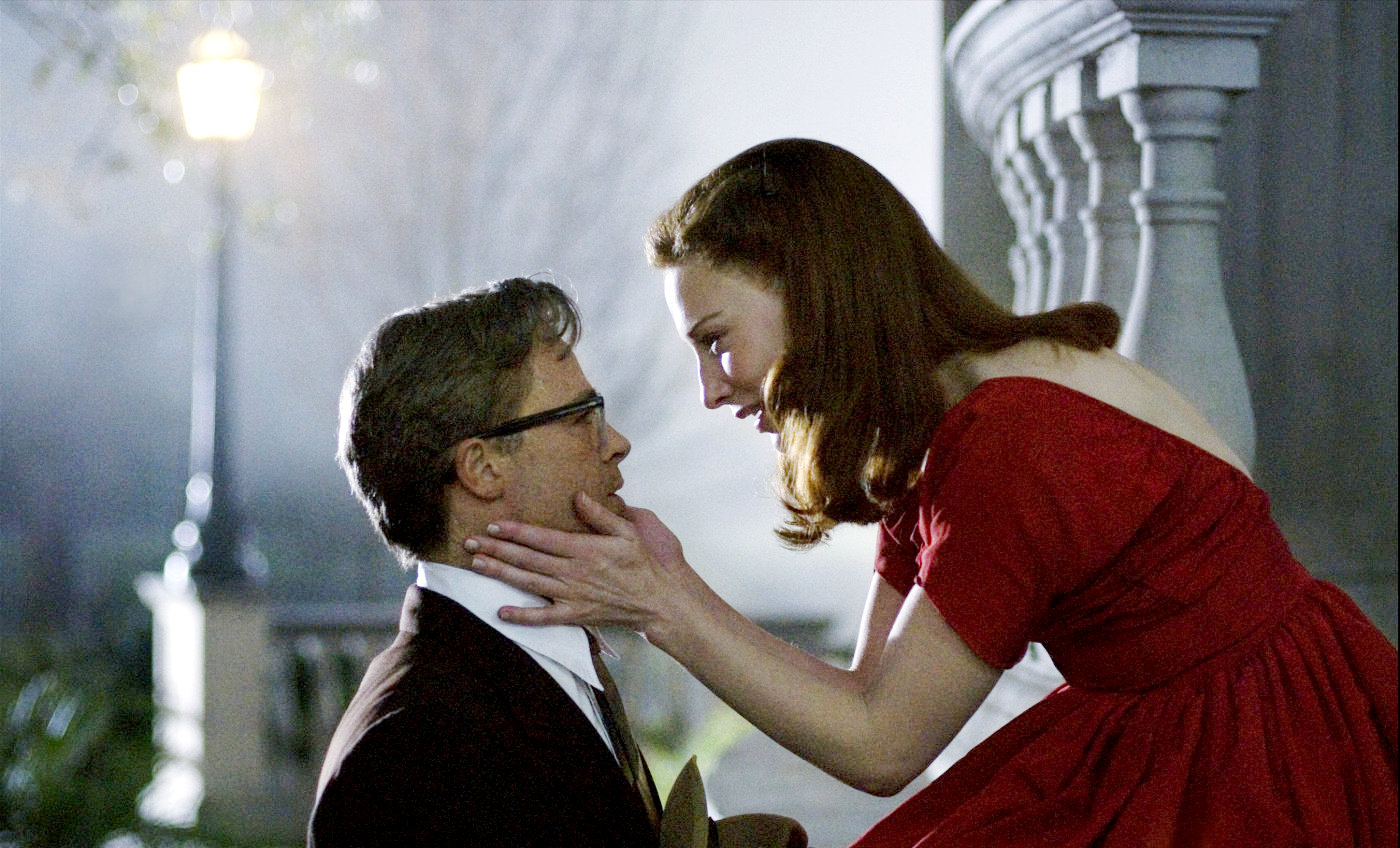 As the male protagonists have clear connections, there is a possibility that the female ones do, too. Daisy and Jenny are the respective love interests of Benjamin and Forrest, beginning from childhood. As a girl, Daisy meets Benjamin at a gathering one afternoon, while Jenny meets Forrest on the bus of his first day at school. The two relationships are built by friendship, and they endure for the full lifetime of the characters. Upon growing into adults, both women aspired to be stage performers (Jenny a folksinger and Daisy a ballet dancer). Both Benjamin and Forrest visit the performances and are left mesmerised. However, both careers are cut short due to certain occurrences – Daisy is forced to retire after being hit by a taxi, and Jenny goes off the rails in a drug addiction as she travels across the US. Due to these journeys, Daisy and Jenny vanish and return into Forrest's and Benjamin's lives after childhood. Despite this, neither leaves Benjamin's or Forrest's thoughts, and each woman shapes the destiny of each male protagonist. The love stories in both films signal that soulmates can find each other at any time (even in childhood), and both show the characters finally reaching fulfillment through having a child with the person they love. Daisy and Jenny are the destinies that the two men consciously seek and move toward, and their ultimate reunions affirm the message that we each have our own destiny to make through determination, resolve, and knowing what we love most.
In addition to Benjamin's and Forrest's similar personalities and love interests, their parental experiences are equally full of a mix of love and abandonment. Although Benjamin's biological mother died in childbirth, he is adopted and raised by Queenie (Taraji P. Henson), a nursing home worker. Her presence in Benjamin's life closely resembles that of Mama Gump (Sally Field). They are both strong single parents, who are the backbones of their children's lives and who even have similar catchphrases: Mama Gump says, "You never know what you're gonna get," while Queenie says, "You never know what's coming for you."
Both films arguably belong to the Bildungsroman (or coming-of-age) literary genre, in which the story focuses on protagonists' development from child to adult, as they search for answers about the world and themselves. Both Mama Gump and Queenie offer strength and resilience to help their children overcome obstacles, thereby expressing to the audience, some of whom may have children with a disability, that they can lead full lives no matter the difficulties. On the other hand, there are no real paternal figures in either boy's life. We don't know much about Forrest's father, but his mother says he "went on vacation," which she describes as "when you go somewhere and don't ever come back." Benjamin's biological father immediately abandons him as a new-born out of disgust for his appearance.
But Thomas Button does reappear in Benjamin's life as an adult before revealing the truth about his past. In the end, Benjamin's father dies in a sequence that recalls Mama Gump's death. Both share an emotional moment with their children before dying off-screen: Forrest talks to his mother as she lies in bed, whereas Benjamin takes his father on an early trip to the river to gaze at the sun as it rises. Even Queenie's death is represented similarly, although we also view her funeral.
Benjamin Button and Forrest Gump even share spiritual meanings through certain props. The floating feather in Forrest Gump, which opens and closes the film, is painted almost as angel watching over the titular character. The feather appears after Mama Gump's death and enters Forrest's life, specifically inside his suitcase, thus gaining an association with his mother's spirit. At the end of Benjamin Button, as Hurricane Katrina is striking, a hummingbird appears at Daisy's deathbed window, suggesting the spiritual presence of Benjamin, who has just died. The feather representing Mama Gump and the hummingbird representing Benjamin send the message that, even after death, we never leave our loved ones.
Through all these striking narrative and character similarities, the two films leave us with a common outlook and feeling about the world. Roth's work on the two films does not feel repetitive or self-derivative, but with close attention, we can see that they are more alike than the casual viewer might ever suspect. As Queenie says, "We all going the same way, just taking different roads to get there, that's all," and Benjamin "has his own road." Looking at the two films together, we may understand more of the "road" that Roth has taken and why an optimistic Bildungsroman approach underpins so much of his storytelling. Ultimately, Forrest Gump and The Curious Case Of Benjamin Button speak to the universal journey of growing up, an experience we all share, regardless of our circumstances.