In mid-January, Showtime launched a new series detailing the courtship of a hedge fund suspected of insider trading by a US attorney and his legal team. Billions (2016), starring Paul Giamatti as US Attorney Chuck Rhoades and Damien Lewis as fund leader Bobby "Axe" Axelrod, illuminates the simultaneous pressures on public officials to bring fraudulent investors to justice and on finance professionals to keep the money machine's gears turning. While the show's two leads are not wholly based on specific people, they take loose inspiration from some well-known players in the financial world.
Even more than capturing any one or several real personalities, the makers of Billions wanted to accurately and realistically portray an existing world. The show was co-created by Andrew Ross Sorkin, a financial journalist for The New York Times, and Rounders (1998) screenwriters Brian Koppelman & David Levien. In an interview with Vanity Fair, Sorkin said that the authenticity of the settings in both the US attorney's office and in the hedge fund offices was important to him as a financial journalist. Although Sorkin suggests the characters are not intentionally based on any particular real-life people, the writer, who has been covering the regional financial scene for over 20 years, built the characters using his experience with the behavior of many financial moguls and public prosecutors.

The US Attorney for the Southern District of New York (including Manhattan), Preet Bharara (left), met with Paul Giamatti (right) during that actor's preparation for the role of Rhoades. Bharara's prosecution of 80 insider trading cases in his tenure serves as the most recent source of material for Rhoades' character. Bharara's 2014 plea deal with SAC Capital head Steve Cohen, which was splashed across the media, also shows certain similarities to Billions' legal fight between the US Attorney's office and Axe Capital. Cohen, accused of insider trading, accepted a plea deal, while some critized Bharara for not taking Cohen down more firmly. In Billions Season 1, Episode 6 ("The Deal"), the terms of the plea Rhoades and Axelrod agree to - payment of a $1.9 billion fine and compliance that Axelrod will no longer trade with outside capital - almost identically match the 2014 deal arranged by Bharara for SAC Capital wherein SAC Capital paid $1.2 billion, and Cohen agreed to trade only with his own capital. Although Cohen himself wasn't charged, he restructured his firm into a new family office film called Point 72 Asset Management, which appears to be very successful so far, making a gross profit of $2.5 - $3 billion in 2014.
Sorkin also cites former US Attorney and Mayor Rudy Guliani, who went after 1980s Wall Street insider traders like Ivan Boesky (the basis for Wall Street's Gordon Gekko character) and junk bond king Michael Milken, as source material for Billions' Rhoades. Giuliani's political designs and his dramatic use of the press, a profile by The New Yorker describes, also fit well with Giamatti's portrayal of Rhoades. On the show, the prosectur has a taste for the Guiliani-esque "righteous anger," at one point obliging a citizen in his neighborhood to scoop up his dog's droppings with his hand.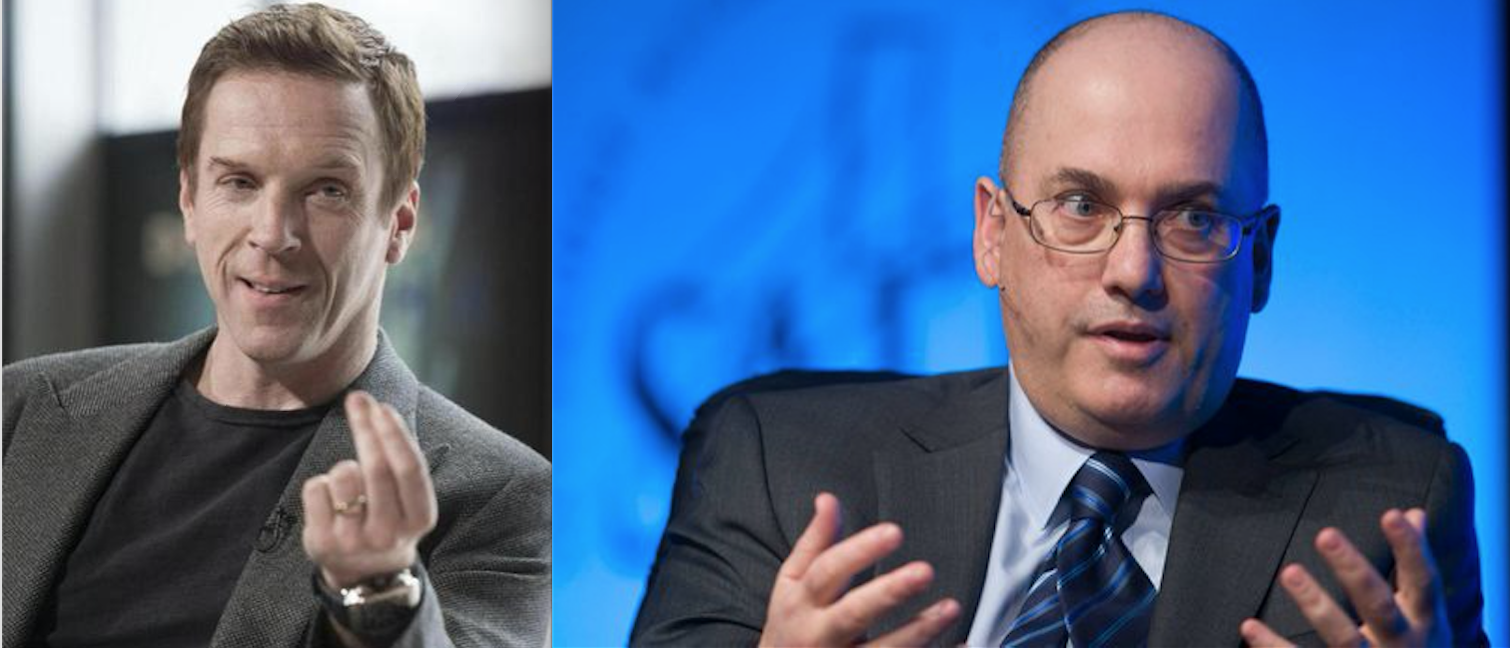 Damien Lewis' (left) portrayal of Axelrod shows similarities to both Boesky and Cohen (right). Axelrod shares Boesky's blue collar roots and Cohen's humbler beginnings. Cohen grew up in the suburbs of New York where his father was a dress manufacturer and his mother a part-time piano teacher. Axe also mirrors Cohen's work persona as a taskmaster. Season 1, Episode 7 ("The Punch") references a cancelled Sunday night call, a nod to the known Sunday meetings which routinely occurred at SAC Capital. Like Cohen, Axe is extremely wealthy - we know he has multi-billionaire status, while Cohen was listed as #72 on the Forbes 400 this year with a reported net worth of $12 billion dollars. Axe and Cohen both have a penchant for collecting expensive mansions (Cohen's are reportedly worth a total of about $280 million) and iconic pieces of artwork (Cohen recently purchased a Picasso painting for $155 million).
Yet co-creaters and screenwriters Koppelman and Levien have used their writing talents to build a fictional character that serves the show better than any one real-life finance mogul could. If Axelrod were based firmly on any one real person, it would be hard for the viewer not to skip to the real-life ending of the (true) story and to remain focused on the characer's dilemma in the moment. Without that inevitable spoiler that the real-life ending would become for Billions, the viewer is allowed to feel all that is riding on Axelrod's savvy navigation through the situation, not knowing what will result.
The pressure that both Axelrod and Rhoades are under, from their constituents and their families, makes for a suspenseful and engaging series. While no actual person's life is represented in comprehensive, faithful detail, the combination of multiple true inspirations infuses Billions with a realistic feel, and the authenticity provided by the show's informed co-creator enhances the viewing experience. Pay special attention to the budding relationship between Axelrod and young reporter Michael Dimonda to observe how Sorkin turns a mirror on himself and the press' role in the money machine.