Quick Answer: 10 year-old Lyanna Mormont is the head of House Mormont. She is the niece of the late Jeor Mormont and cousin of Jorah Mormont. She took over House Mormont following the death of her mother, who perished fighting beside Robb Stark in the War of the Five Kings. Named after Ned Stark's sister Lyanna, she is fierce and capable and maintains the long-standing Mormont loyalty to House Stark. As Lyanna, actress Bella Ramsey turned in a remarkable performance in her first acting role onscreen.
---
Children love to talk over adults and pretend they're in charge. Rarely do they do it with conviction, and they almost never manage to scare the pants off their brave and experienced elders the way Lyanna Mormont (Bella Ramsey) does in Game of Thrones (2011 - ) Season 6, Episode 7, "The Broken Man."
In the episode, we meet 10 year-old Lady Lyanna Mormont, a character previously mentioned by Stannis Baratheon (Stephen Dillane), who petitions her for soldiers in Season 5, Episode 2, "The House of Black and White." Stannis receives the written response: "Bear Island knows no king but the King in the North, whose name is Stark."
A spitfire child in charge of Bear Island and House Mormont, Lyanna is doing her best to appear strong and vigilant under unimaginable strain. She is a northerner through and through, and a calculated, capable leader despite her years. When Jon Snow (Kit Harington) and his crew come to her door campaigning for fighters, she doesn't hand them over without first letting everyone know what she thinks of them. We're shocked to see such a tiny human leading house Mormont and even more surprised once she opens her mouth and starts laying down the smack.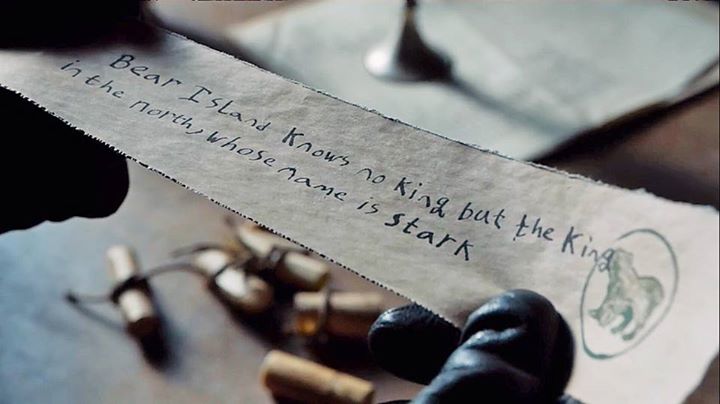 Lyanna's note to Stannis in Season 5, Episode 2
For those who forgot or didn't piece it together, Lyanana Mormont is niece to former Lord Commander Jeor (James Cosmo), the man who, as Jon Snow reminds us before his pleasantries are dismissed by Lyanna, was Jon's mentor upon his arrival at Castle Black.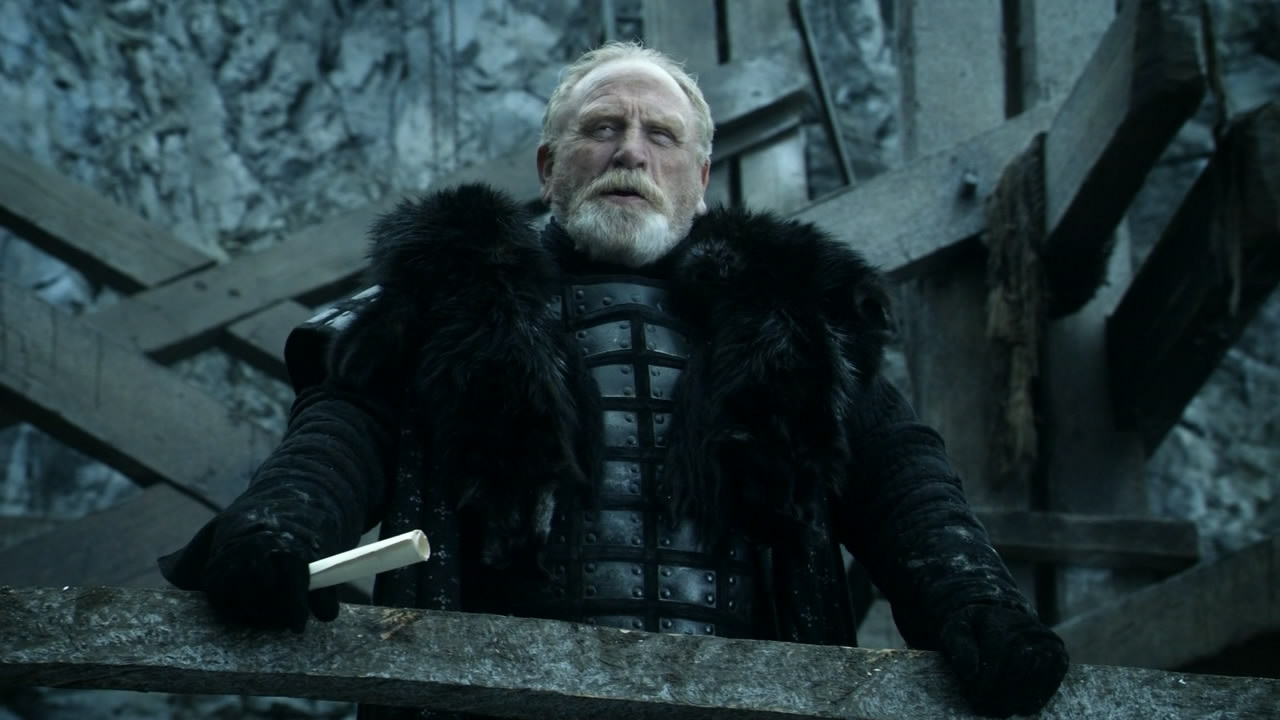 James Cosmo as Jeor Mormont, former Lord Commander of the Night's Watch
Lyanna is also first cousin to Jorah Mormont (Iain Glen), the audience-favorite soldier (and remorseful betrayer) of Daenerys Targaryen (Emilia Clarke), who is currently following Daenery's order to wander the globe in search of a cure for the greyscale that is turning him to stone. Years ago, Jorah was selling poachers into slavery in order to afford luxuries to suit his wife's expensive tastes. He was captured, disgraced and stripped of his titles.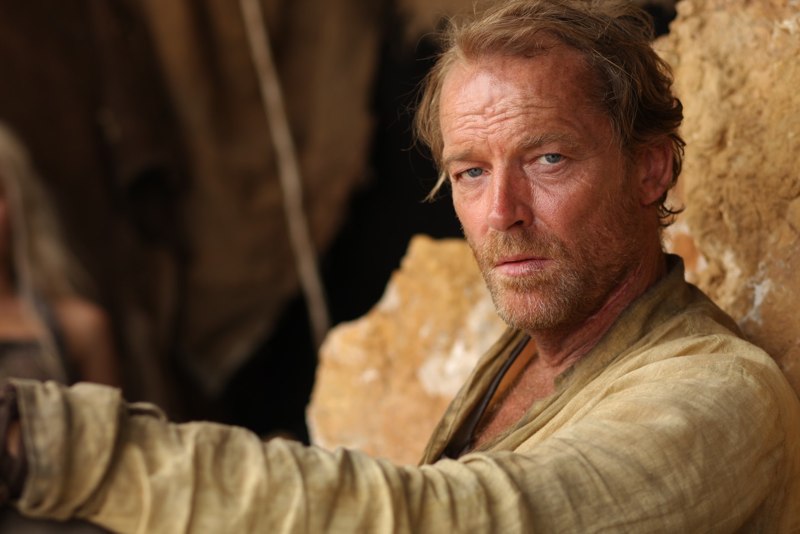 Iain Glen as Jorah Mormont
As a result, Lyanna's mother Maege (Elizabeth Barrett) became head of House Mormont. Maege appeared as a minor character in three episodes of Season One.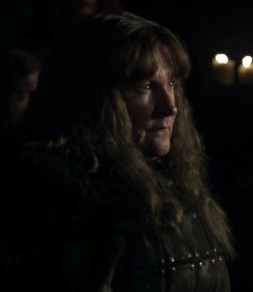 Elizabeth Barrett as Maege Mormont
When Maege died fighting beside Robb Stark (Richard Madden) in the War of the Five Kings, Lyanna became the head of House Mormont and all 62 of its rugged fighting men. She is named after Lyanna Stark, the sister of Ned Stark (Sean Bean) who died before the series started (and who may or may not be Jon Snow's mother).
Lyanna's appearance in the episode was not only remarkable in that it was the first time we saw the character but also because of the triumph of Bella Ramsey's performance. In her first-ever time on television, Ramsey nabs a role on one of the world's biggest series and delivers a character with gravitas rarely this convincing from an actor as young and inexperienced. It was fun to watch her cut down the convictions of major series players, but equally rewarding to see her empathize with Davos Seaworth (Liam Cunningham) and stand up for the Stark name. The stern-faced girl conveyed her inner determination to keep House Mormont afloat while masking the underlying terror any young child would feel beneath the weight of that responsibility. She also made Jon Snow cower, perhaps even more than Mance Rayder (Ciarán Hinds). Without mincing words and without reservation, she told Jon and Sansa (Sophie Turner) exactly how she feels about the situation into which they are throwing House Mormont. She also isn't afraid to remind Jon that he is a Snow or to call out Sansa for being both a Lannister and a Bolton through marriage.
It may just be brawny northerner-speak, but something feels believable about Lyanna's claim that each of her 62 fighting men carries the skill of ten mainlanders. Mormont may be a miniscule house under the guidance of a tiny leader, but her actions reveal the deeply-rooted loyalty between Mormonts and Starks, and it feels like she might play a pivotal role in helping the Starks unseat the Boltons and reclaim their home at Winterfell. Either way, at the very least Bella Ramsey rocked her first credited job as a screen actor.
---
(Want to get more Game of Thrones insights by email? Here's the sign-up.)
Read More on Game of Thrones:
Is Cersei Lannister going to die soon, or will she rise again?
Why did the play-within-a-play spark a revelation in Arya?
Why is the Hodor reveal so huge for the story?
Daenerys Targaryen: Why do so many fans like her?
What is the true history behind Cersei's Walk of Shame?
What real-life castles and locations are used on Game of Thrones?
Now that the show has passed the books, how much will Winds of Winter mirror Season 6?