Who really wrote "Citizen Kane"? Why was there controversy over the screenwriting credit?
The generally prevailing fact is that Citizen Kane (1941) was co-written by director Orson Welles and Herman J. Mankiewicz, and three other writers - John Houseman, Roger Q. Denny and Mollie Kent - contributed but were uncredited. Orson Welles sought to take sole writing credit, but Mankiewicz fought back, claiming that he alone authored the screenplay. Persuasive evidence suggests that Mankiewicz had a significant hand in writing the film, but other compelling facts indicate that Welles also made an essential writing contribution.
Herman J. Mankiewicz was an academic prodigy, graduating Columbia University before his 19th birthday. He took Hollywood by storm with his Ivy League pedigree when he arrived in 1926 and quickly worked his way up the ranks at Paramount. He started titling hundreds of silent films, soon became the head of the scenario department, and transitioned in the sound era to becoming one of the highest paid writers in Hollywood.
Throughout his career, Mankiewicz carried an aura of superiority, seeming to believe he was better than Hollywood even as he helped establish the "Broadway style of wisecracking, fast-talking, cynical-sentimental entertainment" in the Hollywood of his era, according to director Nunnally Johnson. A distinguished playwright and journalist, he flaunted his literary knowledge at every opportunity and collected a stable of screenwriters from the East Coast intelligentsia. When he telegraphed his playwright friend Ben Hecht back East, he wrote, "You must come out at once. There's millions to be made and your only competition is idiots."
Herman Mankiewicz's arrogance, drinking and a gambling addiction led to him getting fired multiple times for open subordination by Paramount, Columbia and MGM studios. But while Herman took pleasure in insulting studio executives and anyone who challenged his status as the smartest guy in the room, he was adored by his peers, who found him funny and charming, as long as they were not the objects of his hostility. When he was hospitalized following a car crash, many of his fellow writers visited him from the studio lot. Among his well-wishers were wunderkind director Orson Welles and his theatrical producer John Houseman, who sought Mankiewicz out to write scripts for the Mercury Theater radio adaptations.
After Welles' first two film pitches (including an adaptation of Heart of Darkness) were vetoed by RKO studios, he turned to Mankiewicz for help, and the collaboration led to the conception of Citizen Kane. The multi-talented producer Houseman, who would later win an Oscar as a best supporting actor, took Mankiewicz on a retreat to Campbell Ranch, which prohibited alcohol on the premises. At Campbell Ranch, Mankiewicz wrote Citizen Kane's first draft. Houseman served as editor but later described his primary job as making sure Mankiewicz avoided getting drunk.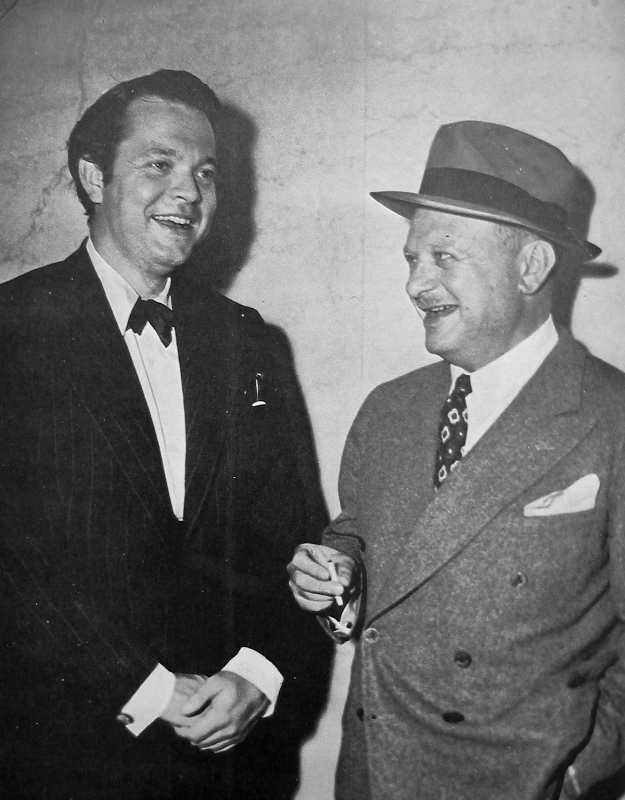 Welles and Mankiewicz
The resulting film, whose central character was obviously based on William Randolph Hearst, would go on to be named the greatest American film of all time by many sources. At the time, the film's commercial success was dampened by a smear campaign by Hearst himself, but it was nominated for several Oscars, including Best Original Screenplay.
It was in the writing credit that the controversy ignited, as Welles tried to convince Houseman and Mankiewicz to let him take sole credit. Houseman obliged, but Mankiewicz countered that it was he alone who wrote the screenplay, and this is a claim that Mankiewicz's descendants have even fought to protect to this day.
As recently as a 2013 Washington Post interview, Frank Mankiewicz, a distinguished speech writer for the Kennedy administration, said, "It was not written at all by Orson Welles." He recalls that Welles "begged" his father for co-authorship because Welles' receiving his full salary for the movie depended on getting the writing credit in addition to directing, acting in and producing Citizen Kane.
Part of Orson Welles' claim comes from the fact that he was used to taking full credit when he was part of the Mercury Theater. A newcomer to Hollywood, he was unaccustomed to the writing culture of Hollywood, and his reputation relied on his boy wonder "auteur" talent for all roles in the filmmaking process. But when Mankiewicz showed he had the power of the Screen Writers Guild behind him, Welles acquiesced, and both agreed on co-credit. In the end, Citizen Kane won the Oscar for Best Original Screenplay, which was shared by Mankiewicz and Welles (and was the only Oscar either ever won).
There's good evidence that Mankiewicz had a large degree of authorship, and he is generally credited at least with writing the first two drafts. He had a fascination with William Randolph Hearst since his days as a journalist and had been invited to a number of parties at the Hearst Castle, during which he observed the newspaper giant. The details of Hearst's life that made its way in the screenplay could only come from someone with the level of personal exposure to Hearst that Welles didn't have.
Additionally, the dramatic structure of using conflicting memories of men and women who knew an iconic figure to draw a complex portrait of a man was used in one of Mankiewicz's plays from his Broadway period. The play, The Tree Will Grow, told a drama about John Dillinger.
At the same time, Welles is widely believed to have elaborated and added on top of the structure that Mankiewicz began. A known auteur, Welles ordinarily had a hand in every part of the process, and there was a witness in Houseman, who verified that they passed various drafts of the script back and forth. Houseman later said, "[Welles] added a great deal of material himself, and later he and Herman had a dreadful row over the screen credit. As far as I could judge, the co-billing was correct. The Citizen Kane script was the product of both of them.
One thing can be certain: Citizen Kane, with its indelible place in the history of American cinema, was not the invention of one man alone. At least three great minds had some hand in conceiving its script.