How closely does "Love & Friendship" adapt unfinished Jane Austen novella "Lady Susan"?
Quick Answer: In Love & Friendship, filmmaker Whit Stillman successfully captures the spirit of Jane Austen's writing onscreen. The film is adapted from Austen's somewhat obscure epistolary novella, Lady Susan, which was published over 50 years after her death, in 1871. Much of the dialogue in Love & Friendship comes straight from Austen, but Stillman altered the style of the narrative so that the action unfolds in-scene as opposed to in the form of a letter.
---
Love & Friendship (2016) is an adaptation of Jane Austen's little-known novella Lady Susan, which was written around 1794 and published posthumously by Austen's family in 1871. Love & Friendship is Whit Stillman's first Austen adaptation, but for the writer-director's cult following — fans who cherish his sharp comedies of manners and Austenian approach to character dynamics — this film has been a long time coming. Unlike many of the Austen adaptations already in existence, Love & Friendship manages to bring something new to the source material while also capturing the essence of Jane Austen onscreen. Instead of tackling one of her frequently adapted classics, Pride and Prejudice or Sense and Sensibility, Stillman builds from a smaller and more obscure work that showcases Austen's talent for comedy.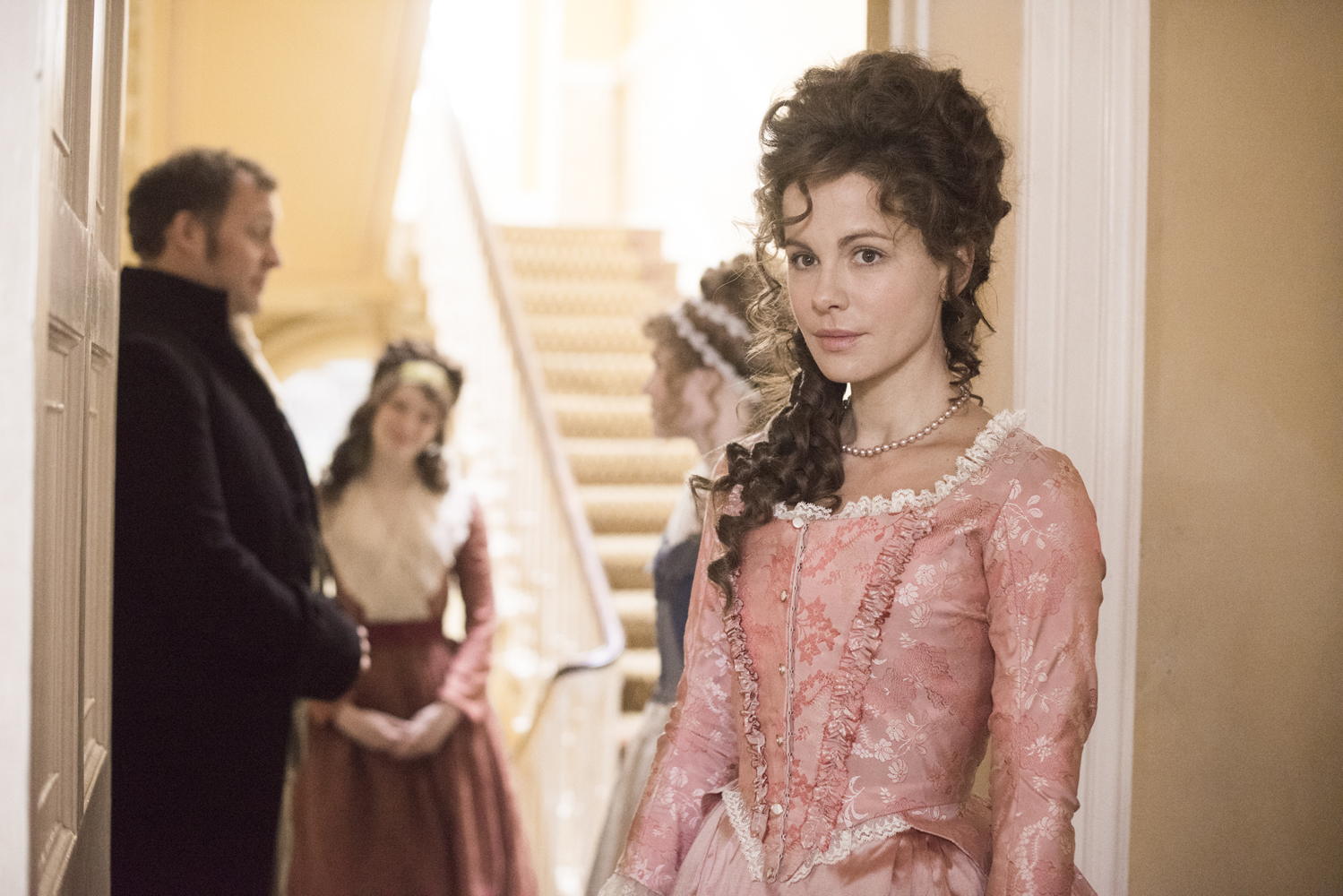 Kate Beckinsale as Lady Susan in Love & Friendship (2016)
Lady Susan is an epistolary novella that Austen wrote when she was 19 or 20 but left unpublished. She initially planned to write Sense and Sensibility in the epistolary form, so perhaps this novella acted as a letter-writing test run. The character at the heart of the story, Lady Susan Vernon (Kate Beckinsale), is a griefless widow who schemes her way through British high society to find an "advantageous" husband for her daughter (Morfydd Clark) and, more importantly, one for herself. A duplicitous anti-heroine, Lady Susan is highly attractive and has an "uncanny understanding of men's natures" which she always puts to use. In polite 19th century British society, marriage was not about love but security, and Beckinsale's hilariously conniving character knows exactly how to operate within the boundaries of social convention, all the while ignoring her onlookers' glares. Lady Susan is charmingly manipulative: a complex feminist character who, similarly to the female leads in Stillman's other films, might not be likeable but commands respect.
Although Lady Susan is brief in its text form, adapting an epistolary story into a straightforward narrative — in which the action is depicted in-scene as opposed to communicated through letters — is a challenging project. Stillman has said that it took him years to get the Love & Friendship screenplay right. Much of the dialogue is straight from Austen, but the director altered aspects of the story to further flesh it out. He believes Austen left Lady Susan unpublished because she abandoned it in its first or second draft, and the story strangely ends with a third-person conclusion that wraps up the plot. In an interview with Vanity Fair, Stillman said, "We felt that if we changed things, if we amplified things, if we added characters that we needed to make it a film, we were part of her process of finishing [Lady Susan], rather than taking one of her masterpieces and reducing it to a 90-minute film."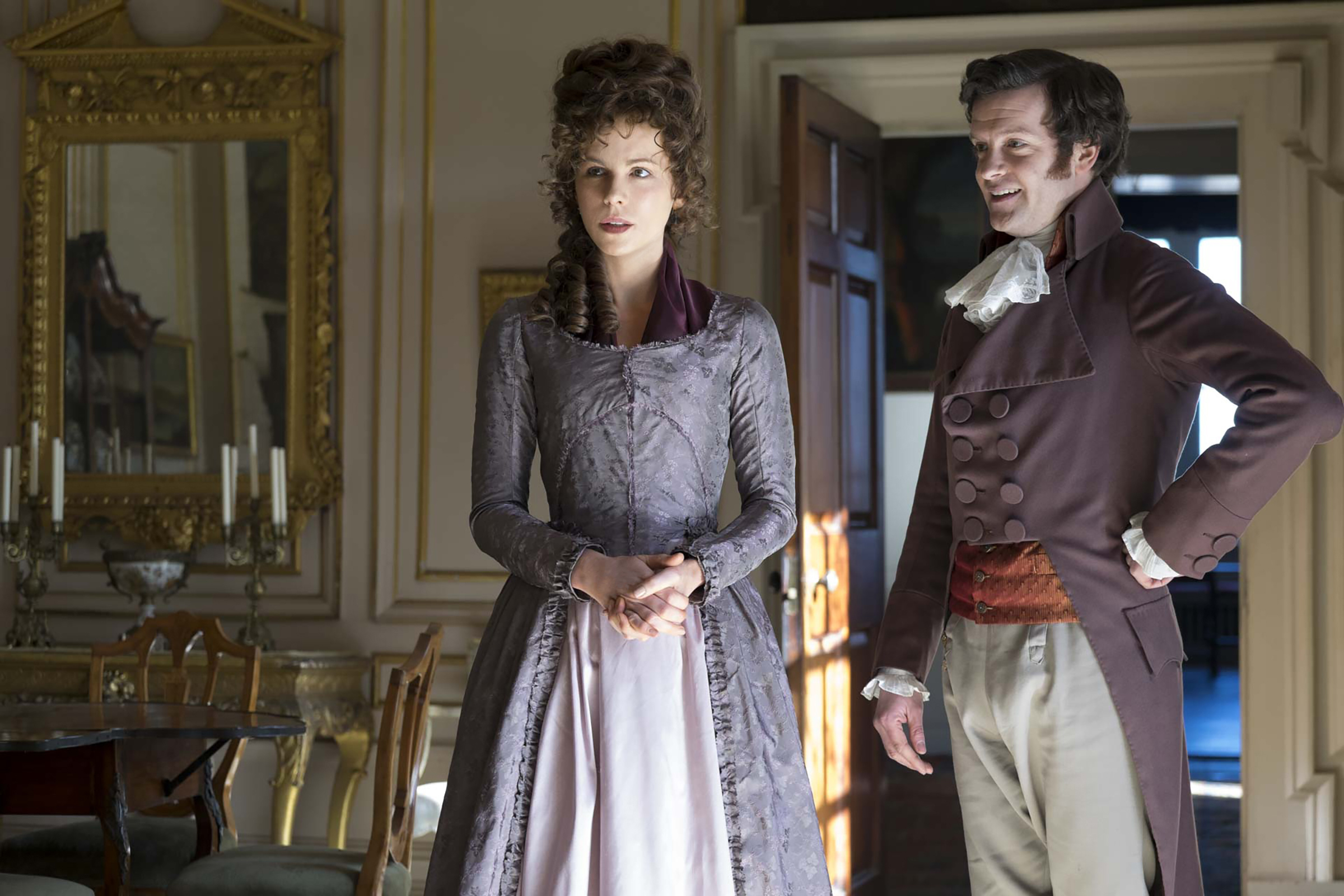 Kate Beckinsale as Lady Susan and Tom Bennett as Sir James Martin in Love & Friendship
While the film is not structured around letters, Stillman maintains the back-and-forth feel of correspondence through scenes of Lady Susan's regular visits with her American friend, Mrs. Alicia Johnson (Chloë Sevigny). Alicia is essentially Lady Susan's sidekick: the only character to whom she reveals her true immoral nature and manipulative motives. In Austen's novella, Alicia is a fellow Londoner, but Stillman's research on the era gave him the idea to alter her character. "I've been reading tons about the politics of the era, which includes the American War of Independence and the exiles being sent back to England…That became the Chloë Sevigny character," he said. This change also ramps up the tension in the film. Alicia's wealthy husband (who Lady Susan tells her is "too old to be governable, too young to die") threatens to send her back to America if she continues spending time with Susan. This is a great depiction of the timelessness of gossip: Lady Susan's reputation as a man-eater spreads across all of rural London, even though the characters travel glacially by horse drawn carriage.
Another change Stillman made in adaptation was his inclusion of non-traditional character introductions at the beginning of the film. A sequence of shots features characters posing at their respective estates alongside text that captions them by name, estate and defining characteristic. Lady Susan Vernon, for example, is characterized as "a beautiful young widow in straitened circumstances." Reminiscent of the quirky Wes Anderson "cast of characters" introductions in The Royal Tenenbaums (2001) and The Grand Budapest Hotel (2014), Stillman's character contextualization plays on the pretensions of 19th century British social life and also recalls the small character illustrations featured in novels published during Austen's lifetime.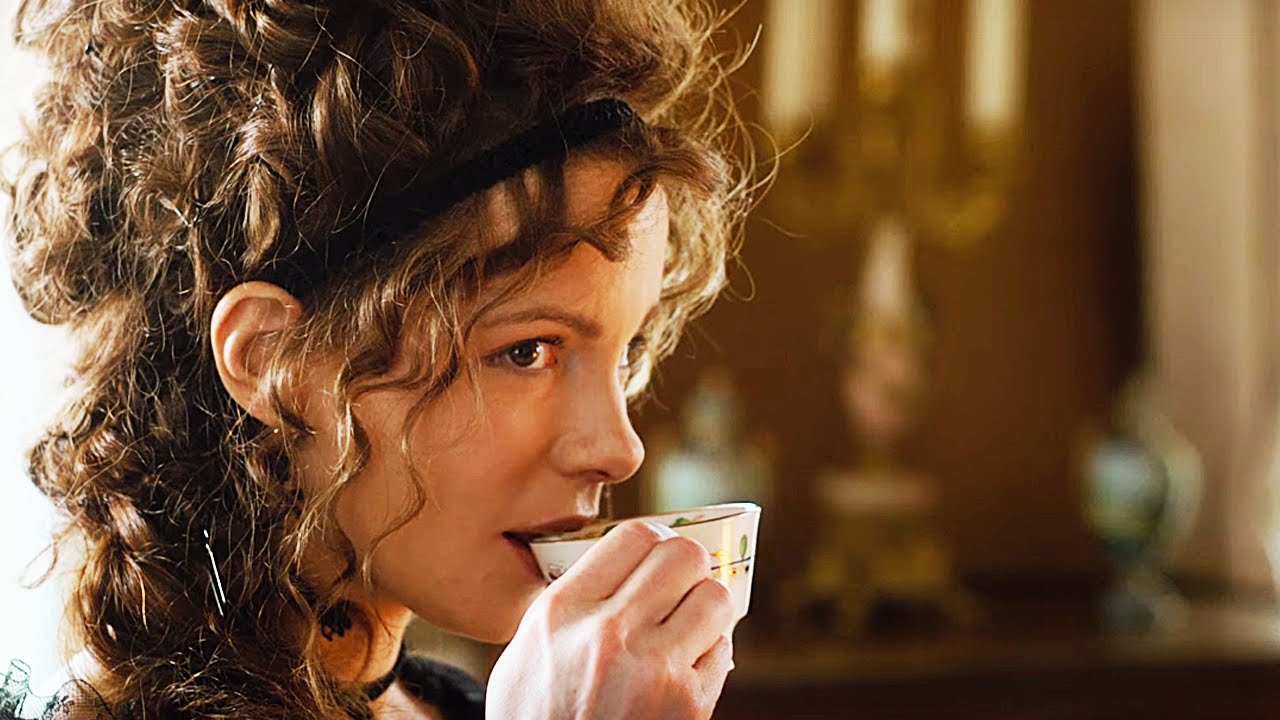 Kate Beckinsale in Love & Friendship
Love & Friendship is likely to be a hit among Jane Austen's devout readership as well as Stillman's cult following. Many fans have been waiting for Stillman's Austen adaptation ever since the characters in his debut film, Metropolitan (1990), debated Jane Austen's contemporary relevance at a formal house party. Both Jane Austen and Whit Stillman are considered masters of the "comedy of manners," a timeless and niche genre that satirizes the affectations of one or many social classes. In Metropolitan, it's the self-described "urban haute bourgeoisie"; and in Love & Friendship, it's the British high society as of 1800. Austen and Stillman are similar in the way that their characters accept and embrace the constraints of the social systems in which they are a part. Stillman is not in the business of writing socially rebellious or likeable characters, but ones who know how to play the game they were born into. And in Love & Friendship, he revives a schemer in Lady Susan.